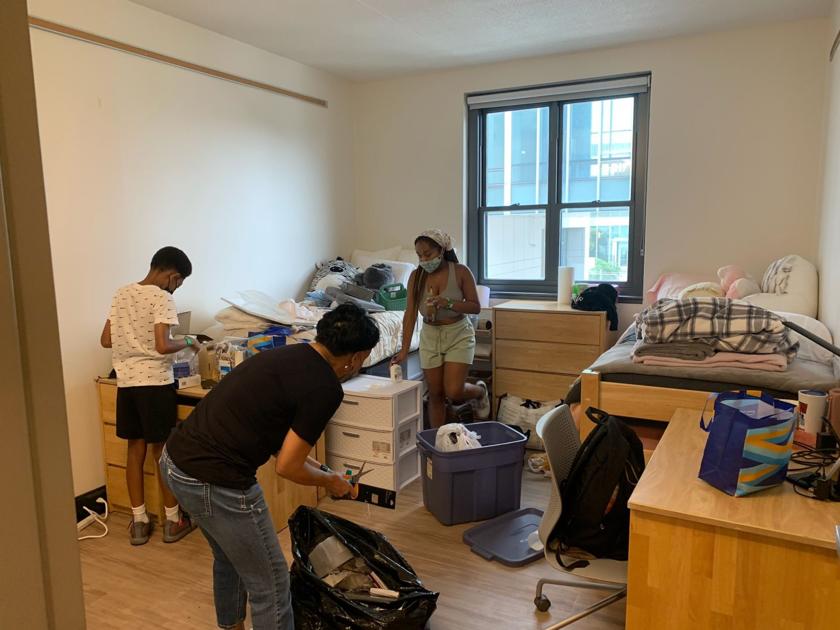 University Savings Plans Offer Families a Way to Avoid Student Debt | Local News
Upon the birth of their daughter Alexis, James Henegan and his wife Daveda opened a PA 529 plan at Vanguard Group and started saving $ 100 per month for her future higher education.
Over time, as family income increased, James Henegan increased the monthly amount to $ 300. Vice president of marketing for a large animal pharmaceutical company, the 52-year-old grew up in North Philadelphia and lives in Oaks, Pa., With his family. His wife is a teacher.
In September, Alexis, who is 18, enrolled at Temple University, where she plans to major in psychology. According to Henegan, the family's total contribution to the plan was around $ 40,000. Over the next 18 years, the PA 529 account appreciated by around $ 50,000 – to almost $ 90,000.
"We got an average annual return of 11%," Henegan said. "When it comes to saving and investing, start as early as possible. Don't panic when the stock market goes down.
Remember, you're investing for the long term – 10 years or more – and the averages are on your side, he said.
The Henegan are not alone.
There are currently 227,265 PA 529 accounts open with a total of $ 6.8 billion invested, according to the Pennsylvania Treasury, which sponsors the plans. According to the College Savings Plans Network, there were approximately 15 million 529 plans nationwide, with a total of $ 464 billion invested, as of June 2021. The group collects data on 529 state-wide plans national.
A 529 plan is an investment vehicle designed to encourage savings for higher education for a designated beneficiary. To remain tax-free, the money must be used for qualifying educational expenses, such as room and board, books, and supplies. Otherwise, taxes are deferred.
For more than 20 years, the U.S. government has provided favorable tax treatment to all state 529 plans, under IRS code 529.
With all the talk about crushing student debt, PA 529 plans offer a great way to reduce or avoid debt altogether.
"Today, more than ever, education doesn't necessarily mean a four-year degree, and the PA 529 plans are here to help whatever path a child takes," said Pennsylvania Treasurer Stacy Garrity. "PA 529s are a great way to save for education in community colleges, technical schools, or apprenticeship programs."
Recipients are not required to attend state schools, she said. Other states have similar plans.
"Every dollar saved today is a dollar less that needs to be borrowed tomorrow, which means less student debt for future generations entering the workforce," said Garrity.
According to Federal Reserve estimates, student loan debt increased by 70% to about $ 1.7 billion between 2012 and August 2021. During the same period, tuition fees increased by more than 10 %.
Yet a recent poll by Morning Consult and investment firm Edward Jones found that a third of parents of students surveyed said they were aware of 529 plans, and around 20% said they would consider them.
Typically, parents and students fund higher education through a combination of state and federal loans, savings, scholarships, and financial aid.
Henegan said the amount to save depends on your financial situation, but it's less important than being consistent.
So far this year, he said, about $ 11,000 of the money has been spent on housing and food, books and other supplies for Alexis.
"We have more than enough to pay for her tuition and should be able to save some for higher education," Henegan said, as Alexis was able to land scholarships.
At Vanguard, investors have the choice of letting a financial consultant make the investment decisions for their nest egg or choosing a combination of several mutual funds themselves. Henegan, who has read about investing and been interested in the stock market for years, chose to go it alone.
A mutual fund is an investment vehicle made up of money from a group of investors. A professional manager, or a team of managers, decides which stocks to buy, usually based on an investment strategy or a particular risk factor.
Pennsylvania Treasury spokeswoman Samantha Galvez said PA 529 plans can be opened without a minimum deposit and future contributions can be as low as $ 1.
Investors have two different plans to choose from: the PA 529 Investment Plan or the PA 529 Guaranteed Savings Plan, she said.
The PA 529 investment plan allows account holders to choose from a variety of investment options ranging from aggressive to moderate to conservative. The plan includes "target enrollment date portfolios" that automatically rebalance the investment asset mix as a beneficiary approaches their expected school enrollment date, Galvez said.
The PA 529 Guaranteed Savings Plan is a low-risk plan where returns are tied to tuition inflation, helping families save at today's tuition rates to cover future expenses, a- she declared.
Both plans offer the same tax benefits including a Pennsylvania state income tax deduction, no income tax paid annually on income, no income tax paid on growth when used for expenses. eligible, as well as tax benefits for gifts and estates in Pennsylvania, Galvez said.
Additionally, the amount of money in a PA 529 plan does not affect a student's eligibility for state financial aid.
Only states or schools can sponsor 529 plans, and while people can open an account through a financial institution such as Vanguard, even these plans are sponsored by the states.
PA 529 accounts can be opened directly on the Pennsylvania Treasury website, www.PA529.com. For Pennsylvania residents, knowing which 529 plan they are investing in is essential. Financial institutions and advisers can sometimes direct them to another state's plan. If this is the case, the investor may lose specific Pennsylvania benefits.
Meanwhile, Henegan has also opened a PA 529 account for her son Jayden, 12, and is encouraged by the returns so far. "His is more efficient" than that of his daughter.