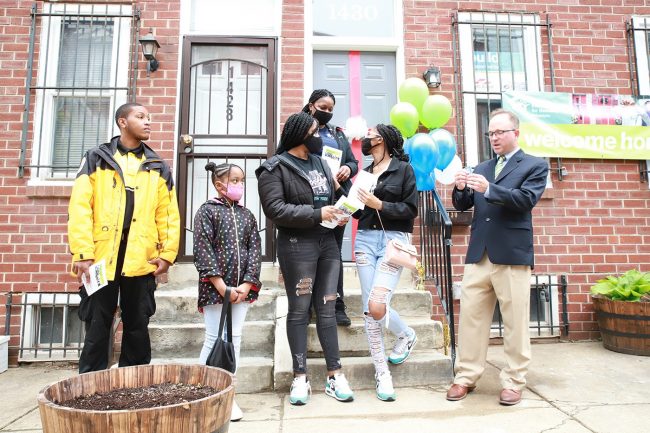 UCs make home ownership a reality, support at-risk youth and fund high schools
Mike Dinneen (right), SVP of Marketing for the $4 billion, based in Philadelphia, Pennsylvania American Heritage Credit Union, presents a Habitat for Humanity partner family with the keys to their new home during a May ceremony in North Philadelphia. The credit union funded the home of a local partner family through Habitat for Humanity Philadelphia's Homeowner program. Acceptance into the program is based on a partner family's needs, ability to pay, and willingness to partner with the organization. Through American Heritage and the Federal Home Loan Bank of Philadelphia, the family will also receive an affordable mortgage for their Habitat home.
The Ascentra Credit Union Foundation, the philanthropic arm of Ascentra Credit Union ($542 million, Bettendorf, Iowa), recently partnered with Safer Foundation Quad Cities in Davenport, Iowa and adopted one of its six Youth Empowerment Program (YEP) sessions for 2022, making a donation of $5,000. The YEP focuses on young people who have disengaged from high school and/or who have been involved in the criminal justice system. It helps at-risk youth overcome barriers to learning essential skills for life and work, graduating from high school, and connecting to employment, vocational training or college. post-secondary education with the overarching goal of a safer community. Pictured, L-R, Kaitlyn Holland, YEP Program Manager, Brian Monroe, Safer Foundation Quad Cities Resource Development Manager, Erica Lee, Safer Foundation Quad Cities Director, Linda Andry, President and CEO of Ascentra, and Jennifer Naeve, Senior Vice President and Chief Marketing Officer of Ascentra.
Nelsy Bacon, member of the 2.5 billion dollar group, based in Atlanta Atlanta Postal Credit Union and postal worker in Mount Vernon, Washington, poses next to the right-hand drive 2011 Jeep Wrangler she uses on her rural postal route. As the winner of the APCU car loan repayment contest, Bacon's car loan balance of $23,084.57 was fully paid off by the credit union. In the contest that ran from January 1 to March 31, any member who funded a car loan during that time with APCU — or Center Parc Credit Union, a division of APCU — was automatically entered. for the balance of his loan to be repaid in full up to $35,000. Members who also purchased GAP Insurance or Route 66 Extended Warranty Protection through the credit union received additional contest entries. Bacon's name was randomly selected from over 3,300 entries.
Volunteers construct an Early Years Center play area located at the 415 Franklin Building in the Madison area of ​​Grand Rapids, Michigan on May 2. The project is the result of a partnership between the $12.1 billion, Grand Rapids-based Lake Michigan Credit Union and the YMCA of Greater Grand Rapids. Volunteers from LMCU, the YMCA, the Early Learning Neighborhood Collective of Grand Rapids and the community came together to prepare the site and help build a colorful new playground structure, which is now complete.
The $175 million, based in Fairbanks, Alaska MAC Federal Credit Union recently held a gasoline giveaway in Fairbanks and Palmer, Alaska. Each vehicle received up to $50 worth of gas, with MAC donating a total of $20,000 worth of fuel to more than 400 people ($10,000 at each location) and the general managers and branch managers of the credit union pumping for them. This was MAC's third time hosting a gasoline giveaway, but the first time in Alaska's Mat-Su Valley, where MAC plans to open a new Palmer location soon. Pictured, from left, are CMA Marketing Coordinator Alyssa Goforth, CEO Angela Head and Chief Marketing Officer Sara Smith.
InRoads Credit Union ($350 million, St. Helens, Ore.) President and CEO Brooke Van Vleet (center) presents a check for $11,488.70 to Rainier School District Superintendent Dr. Joseph Hattrick (left ) and the principal of Rainier Junior/Senior Graden Blue High School as part of InRoads' Team Up for Schools program. The program encourages members to use a co-branded debit card featuring one of three mascots from St. Helens, Scappoose and Rainier Oregon High Schools. When members use their card for a purchase, InRoads donates $0.05 to their favorite school. For the 2021/2022 school year, members helped raise $99,842.70, with St. Helens High School receiving $51,424.15 and Scappoose High School receiving $36,929.85. Since its launch in 2017, the program has raised over $334,000 for local high schools.
Please send your community news articles to Natasha Chilingerian at [email protected]