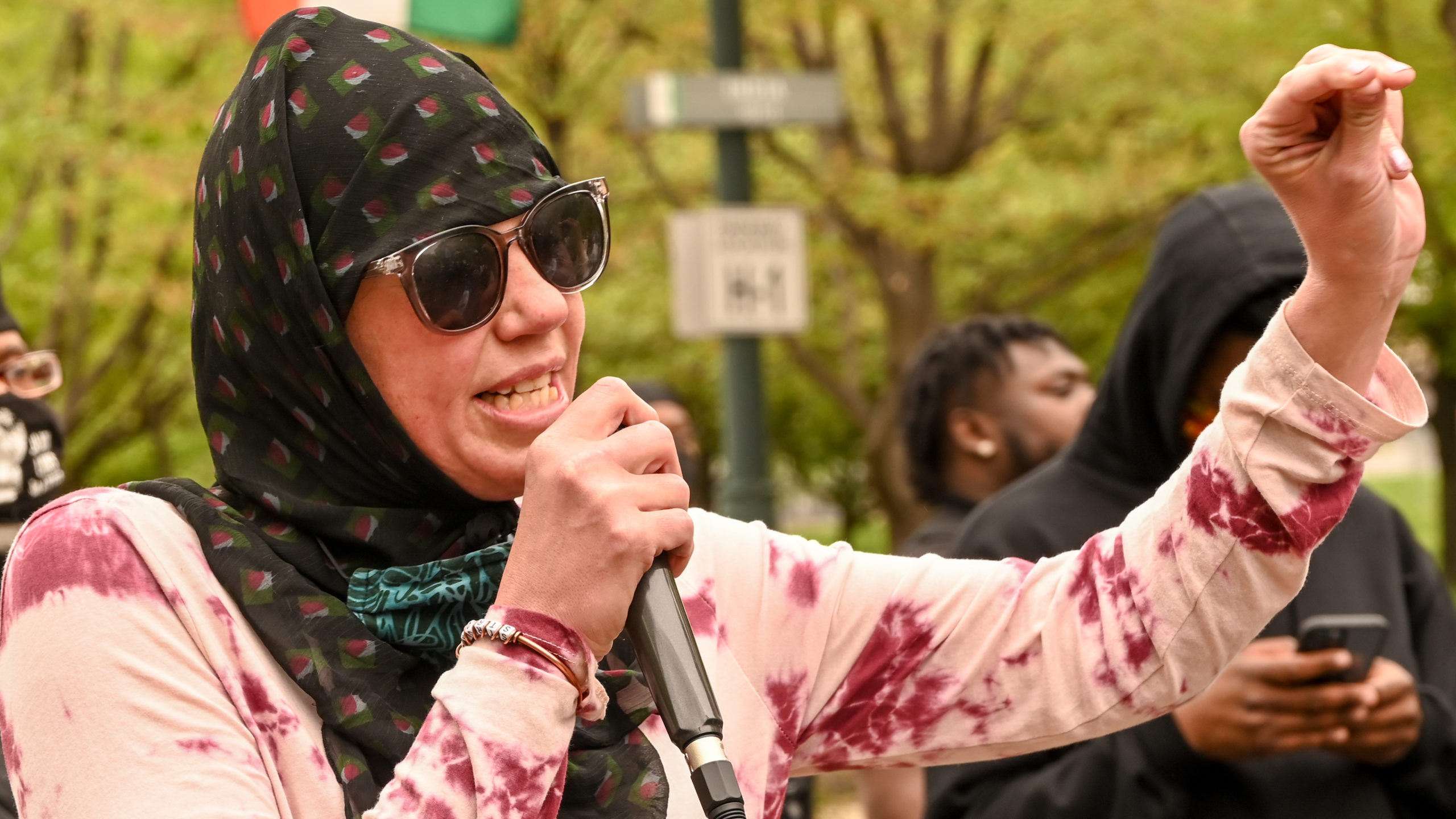 Philadelphia housing activist Jennifer Bennetch, founder of the Occupy PHA movement, dies at 36
Philadelphia, Pennsylvania – It was April 24, 2021 at the Rally for Mumia in Philadelphia, Pennsylvania, where people came from all over to celebrate Mumia Abu-Jamal's 67th birthday and to demand his freedom after 40 years of unjust incarceration. Rapper Immortal Technique had just finished speaking on the steps of City Hall. It took a few moments to gather everyone and start walking northwest on the boardwalk towards the steps of the art museum, where more speeches were scheduled from speakers from far and wide.
Halfway to its destination, the march reached the intersection of 20th Sst and Ben Franklin Parkway. Just a few blocks from this site is where Jennifer Bennetch was able to effectively initiate and organize the 2020 OccupyPHA encampment. Next to where the march was held, on the northwest corner of the block , was the site where a second encampment, the James Talib-Dean Protest Camp, held space that summer. These protest encampments harnessed the collective power of homeless people and their allies to ultimately win a landmark land trust agreement with the Philadelphia Housing Authority (PHA).
The march came to a halt when Bennetch gave an impassioned speech with facts about housing inequality, police brutality and the PHA's role in the city's housing crisis. A comment or two was muttered in the crowd as most were fully supportive of what she had to say. Then, as soon as she got off the megaphone, she shouted, "who talks shit?"It was typical of what many had come to expect from Jennifer over the years as a community organizer in Philadelphia – Passionate, fearless, no frills and always with the facts. A force to be reckoned with.
Jennifer Bennetch, also known as Nadera Hood, died Thursday, February 17, from complications related to COVID-19. She was 36 and leaves behind three children.
Bennetch also leaves behind a legacy of speaking truth to power with her unwavering commitment to fighting PHAs and securing housing for some of Philadelphia's most vulnerable. As the founder of OccupyPHA, she was able to help win an unprecedented deal with the city and PHA.
A City of Philadelphia press release from October 13, 2020 states, "Under the terms of the agreement, the city and PHA will transfer a total of 50 properties to a land trust established by the residents of the encampment." The city press release announcing the groundbreaking agreement quoted Bennetch as saying,
"OccupyPHA, along with the leaders and residents of the Parkway Encampment (known as Camp JTD), came together to demonstrate to pressure PHA and the city to come to the table to discuss real change. to the housing crisis in Philadelphia. I am very proud that we were able to reach an agreement with the city and PHA to create a community land trust for permanent low-income housing with long-term vacant properties from the city and PHA. We appreciate the opportunity to move from protest to partnership and look forward to implementing lasting change for the homeless community.

Jennifer Bennetch
Bennetch's activism did not begin and end with negotiations with the city. Remarkably, she has also been steadfast in rehabilitating viable, state-owned vacant homes in North Philadelphia for occupancy by homeless Philadelphians, in a fearless and open form of direct action that some would call it "squatting." Always wearing a hijab, often with a stroller and sometimes with her children walking alongside her, she was not the stereotypical, undercultivated image some might imagine to be at the forefront of a squatter movement in Philadelphia. .
In June 2020, Unicorn Riot followed up by explaining their work in a 17-minute video through the Sharswood neighborhood, just blocks from PHA's new multimillion-dollar headquarters. She says, 'I think it says what we've been saying all along, that the housing authority is intentionally destroying our neighborhood so they can justify removing people. [from their homes] by imminent domain. She explained the retaliation she faced from the city for allegedly doing this work, including the DHS sent after her children. The full video can be seen here.
Bennetch showed Unicorn Riot one of the rehabilitated and previously empty townhouses housing a formerly homeless family during the early months of the COVID-19 pandemic.
While negotiations with the city were marked as a victory, more than a year later it seemed the city had failed to deliver on its promise. Throughout the pandemic, health challenges and personal struggles, Jenn continued to fight for fair housing in her town. In a GoFundMe created by Jennifer Bennetch on December 1, 2021, she wrote,
"So, although there were a lot of rumours, I quietly dealt with the bureaucracy behind the scenes while [my] his own life also falls apart. We are set to close the first two rehabilitated units on Friday and the others as they are completed. Insurance for units is between [$1,700 and $2,000] (This will decrease significantly when we have at least 10.) We cannot close or move people without insurance and must also insure properties said to be occupied by squatters when we close them. People have been in units for over a year now and repairs etc. are coming, so we also need funds to keep these units safe. I was deathly ill over the summer and am still healing so I wasn't doing as much as it should have been etc. as I am much better and will be able to apply for grants and find other ways to keep enough money to maintain units and insurance.

Jennifer Bennetch
She updated the page on December 21, less than two months before her death. "The city is lying. they didn't deliver and stopped communicating in February after taking us to a bunch of houses they didn't even own.
Family, friends and comrades shared memories, condolences and tributes online following the shocking news. Some commented on whether poverty or lack of insurance played a part, and whether she had not received the proper medical care she needed as a result. Most simply reflected on how they were inspired by her. Referring to Jenn as "warrior", "meticulous researcher", "a fighter for justice and equality"and one "Empress of Direct Action".
A fellow Jenn, Aine Fox of the legal collective Philly's Up Against the Law, spoke about her death and the role she played in life:
"I first met Jen when she started 'Occupy PHA' – she was a fierce and determined activist. So shrewd about how 'power' works to keep the poor down. Jen ALWAYS challenged power with the truth – police PHA, PHA, PPD, City of Philadelphia No one was going to go unchallenged.

A whole movement for housing justice was born from the courage of this woman – she was a natural leader who inspired many to take action. A devoted mother and friend to many. His children always by his side – I can't imagine what this loss will mean to them. I hope the community she helped establish will continue to thrive and hold space and love for loved ones left behind. Codladh sámh á comrádaí."

Groin Fox
Asantewaa Nkrumah-Ture, an organizer for the Philadelphia Tenants' Union and the Economic Campaign for the Human Rights of the Poor, described Bennetch as a "dear friend, sister and comrade":
"Jenn was a powerful and fearless woman who organized and fought for housing justice for all. Although she was a powerful leader, she worked collectively with others. His persistence in taking on the Philadelphia Housing Authority and the City of Philadelphia from 2019 until today will go down as a shining example of how to focus and get things done.

Jenn didn't let anything get in her way; even when someone made a fake anonymous child endangerment call to Child and Family Services seeking to have her children abducted to curb her efforts, she didn't stop, she just found another way of doing things.

Jenn has now joined the Ancestors, she has left our arms, but never our hearts. We will reinvigorate our efforts in her honor…we will share and donate to the GoFundMe to help her children…and she will be forever missed.

Asantewaa Nkrumah-Ture
Nkrumah-Ture dedicated a recent eviction defense action in West Philly to Jenn's memory.
A GoFundMe page has been set up by Jennifer's eldest son, Cole Bennetch, to help support his 9-year-old brother and their 7-year-old sister after the loss of their family.
---
See Jennifer Bennetch's speech at the Free Mumia rally on April 24, 2021:
---
Title image credit: Photograph taken by Joe Piette on April 24, 2021 Unicorn Riot
---