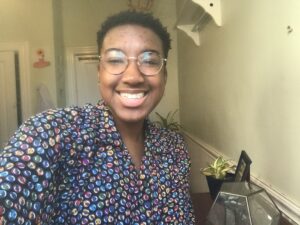 Malcolm Miller – The Philadelphia School District
STUDENT OF THE MONTH JANUARY
Last name: Malcolm Miller
The school: Master
Nominated by: James Allen – Advisor
When you meet Malcolm, you instantly realize you've met a child on the move. In fact, many places and constantly adding more! First, you need to follow his jet stream of enthusiastic conversations. It's full of excitement and optimism, which is impressive when he says he entered the foster system a few years ago. Now, happily settled in his best friend's house, he approaches his days and his many interests with the energy of someone who senses the purpose behind what he pursues.
He has been at Masterman since middle school and quickly immersed himself in the various clubs and other opportunities offered by his school. He says the most important decision he made in college (and possibly his entire school career) was to join the Debate Club. "It taught me useful and applicable skills about public speaking and politics. It continues to help me even now. He proudly notes how well his team performed during a mock trial against private schools with far more resources "Knowing how hard we worked and how well we collaborated gave me a lot of confidence. These students and teachers are truly the best people to work with.
Among his many other activities, he is proud of his role with the United Minority Council, a new mentorship program at Masterman, launched by the elders last year. As a program that connects high school mentors with college mentees, the program struggled to get a solid footing during virtual school. "I showed so much initiative last year that the senior founders asked me to step up and play a bigger role. It takes a lot of time but it's very fulfilling because it's a job I want to work on! Mentoring matches are based on shared identities and it's fun to match my friends with their matches and see how they connect and work together. Then we hear reports of how they solved a problem together or how well someone did on the tests.
He also thanked his fellow Board members and the new Equity Coordinator, Ms. Robinson, for their hard work and assistance with the UMC. "We only meet once a month, but there is so much going on between meetings that I'm always amazed at how much has been done! »
Outside of school, Malcolm is an environmental activist with Philly's Earth Alliance. "Exposure to direct action, like seeing adults and their engagement and writing on behalf of Earth Day made me realize that I wanted to be in an urban community working for my community." (You can read the OpEd Malcolm wrote for the Inquirer about the city's choice to give tax breaks to certain companies when they created environmental risks and accused of mistreating workers, here.)
Juggling all of these activities while maintaining an excellent academic record became easier once he was integrated into his foster family and into a safe and supportive environment. "Living with my best friend is great!" Malcolm said with a big smile. "We can do our homework together, we're in the same clubs and classes – like, right now, we're representing the same country at a mock United Nations conference so we can ask each other questions about the project. So it's convenient and awesome – and I'm learning sports and video games that I wouldn't have been exposed to otherwise.
When he concentrates on school, among all these other activities, he prefers History. He says he avoids STEM at all costs, but somehow we think he would excel in this area as well.
He is currently applying to college programs in sociology and urban studies to become a social scientist. He pursued his own research through the University of Pennsylvania Youth Civic Engagement Project, which he heard about from his 10th grade African-American history teacher, Ms. Taylor. "The description on Google Classroom was unclear as to how involved he was," he laughs. "But I held on. It gave me the confidence to do my own research with full autonomy in how I do it or manage my schedule or when I finish it. I also have a PhD student mentor-collaborator at Penn who is also very supportive.It's very cool to work with someone who is interested in what interests me.
Malcolm's research focuses on how undocumented Black and Latino people build trust with community organizations that are there to help them – what helps overcome barriers of mistrust? Is it the body language, the physical space, the service location, the reps (i.e. if they look like they come from the same background) – what do they seek the most. Spoiler alert – so far he's found the biggest factor is the forum it's set in. For example, if it is a hotline, does it help provide translators or guide questions to ask. And awareness, usually through word of mouth and/or social media, is key.
Of the 12 schools he's applied to, he's heard from four (all accepted so far!) but he's still waiting for his favorite.
We asked Malcolm our usual questions, about his Student of the Month nomination and some other fun facts that help make him who he is:
1. What does being named Student of the Month mean to you? I knew the previous winners and thought that was a long way off. Being surrounded by high performers is becoming the norm. So it's really good.
2. Why do you think you were named Senior of the Month?As successful as my school is, I think it's rare to be involved in THESE many things. And I care deeply about all the things I do; they mean a lot to me and I spend so much time on them. I come to school so I can learn some of the things I love the most.
3. You were nominated by your advisor, Mr. Allen. Explain your relationship to him? Why do you think he named you specifically? I met my counselor at the end of middle school, working on the high school application process. I didn't expect to get help with this so it was nice to realize you have support. It's great to have someone who knows you well and supports you, helping you write posts for college. I hear throughout the district that it can be difficult to find good, caring counselors and I don't have that problem!
"Malcolm is a very inspiring and proactive advocate for change in our building and for our community," said Allen. "He is extremely hardworking and enjoys working with people. And while it's clear he's a natural leader, he does it with grace, not just enthusiasm – he's very approachable, kind and friendly – even if things don't go his way. He's just an amazing student and an amazing human being. He's been through a lot of changes over the last few years and he's really pulled through. »
4. What is one thing you would like to share about yourself that most people don't know about you? During the summer, I took a flamenco dance class. I'm maybe 2% better than before, but it was really fun and fun to do something just for his creative side, instead of academic. I had no idea, it was out of my comfort zone and not at all aligned with anything else I was doing. (We had to ask – was he planning on keeping up? Yes! He'll be starting monthly workshops in February!)
5. What do you like the most when you are not at school? Activities with my family – like cooking and then eating the food we cook. It's great to look around and feel loved and supported. My favorite meal to cook – Brussels sprout flatbread with warm honey.
6. What do you think is your favorite thing about Masterman?How many initiatives are student-led. We want to do a lot of things and sometimes the teachers don't have time to help us with all of them. So students start great programs even without adult support. Then we compete with private and suburban schools that have more resources and coaches, but we're totally on par with them. This is a testimony for our students! And we didn't rely on anyone but ourselves – these management skills will come in handy in the future.
7. What do you think is one thing the school district could do to improve our service to students? Provide more challenging options like the ones we have here, for more students in more schools. I'm lucky to be here and I know it. I would have been challenged by my neighborhood school, but I would have had no choice between IB courses or honors. It is doing students a disservice not to have these options available – without even giving them the chance.
Congratulations again Malcolm – and good luck pursuing all the many interests and career goals you have – now and in the future!