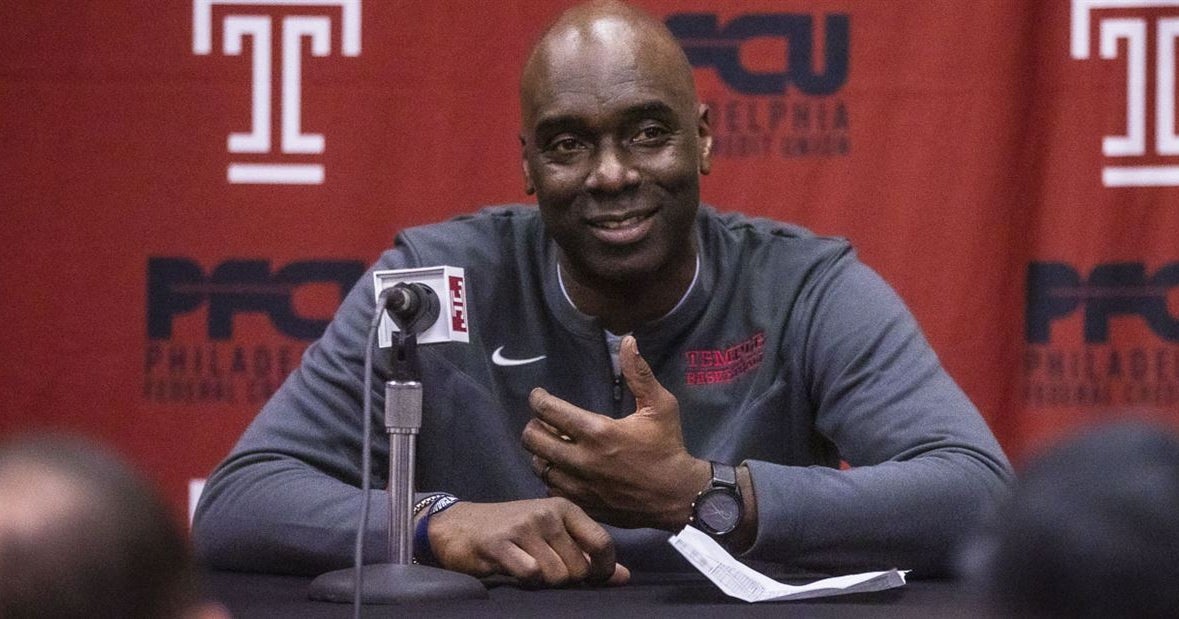 Cincinnati Bearcats vs Temple Owls Preview
The Cincinnati Bearcats (17-9) look to end a three-game home game on a high note when they host the Temple Owls (14-9) at Fifth Third Arena Sunday at 2 p.m. on ESPN2. Wes Miller and the team managed to stop a two-game skid on Thursday and will now be looking to rack up some wins as the regular season begins to wind down.
When you're on a little slip and some losses are piling up, there's no better way to cure all the stress than to take down seven 3-point jumpers in the first 9 minutes of a game to build a 21 point lead. Few teams in the country can do that, but it's something the fan base saw from the Bearcats earlier in the season. Well, it happened again on Thursday night but it wasn't the Jeremy Davenport fireworks that littered the first games in Memphis and Tulsa. The Junior hit 2 in the hot opener but he brought Mika Adams Woods, John Newman III, Mike Saunders Jr. and mason madsen (twice) along the way. It was huge to see some of these names get off to a hot start, but perhaps it's the name you'd expect to see mentioned in this group that gets the most attention.
David DeJulius was an absolute rock for this team. He was the only offensive light in what had been a pretty grim struggle over the last six games. As a result, teams have now done everything they can to get him out of the game. This was again the case on Thursday, as Juice scored his first basket only 2 seconds from the end of the first half. By then, Bearcat's 21-point lead had completely run out and four straight points from the senior were needed to take a 7-point lead to the locker room. The second half never came close to 4 points in the opening minutes as the Reds and Blacks used a very balanced and highly effective night to get back on track against a tough State side of Wichita 85-76.
DeJulius of course always led the team in scoring, but there were 6 players who scored 8 or more points. The team hit a season high in FG% and 3pt% while everyone else made an impact. Abdul Ado and Ody Oguama even combined for 13 FG attempts, which is the highest total of the entire season on both centers. Ado added 4 blocked shots in what could be considered one of his best games in a Bearcat uniform. Things went well and this team regained some confidence at the final buzzer. It was the type of game everyone needed and the type of game everyone had. As always, the chance to keep rolling comes at short notice this Sunday. Let's take a look at the Temple Owls and what Cincinnati needs to do to end the week with a bang.
Last release and so far
Remember when I mentioned that fans were used to the days when the team was throwing shots from behind the arc at a clip above 40%? The five-game streak that had four with double-digit threes and two with 16 connections ended in Philadelphia when Temple held the Bearcats to their worst shooting performance of the season. They were 29.4 percent from the field and 21.2 percent from three, but Cincinnati actually took a 14-point lead to the locker room at halftime. In the last 20 minutes, the Reds and Blacks shot 17.2% from the field and 7.1% from long range, a half that I want to erase from my memory. David DeJulius was the only double-digit Bearcat, but saw his game level the float in the deflated 61-58 loss.
What gets lost in this game is the fact that Aaron McKie has a Temple team playing at a solid level after losing their top scorer earlier in the season. Since the Owls improved to 11-6 after their Jan. 25 win, they've gone 3-3 with road losses to SMU and understandably shorthanded to Tulane, and then a 52-49 loss. in South Florida, which is the Bulls' only win in the last 10 games. They won at East Carolina, which is no easy feat, and beat Tulsa in that streak that all led up to Wednesday night and a visit from SMU. Temple has struggled with some serious injuries, but news of AAC Player of the Year favorite, Kendric Davis would be out for the game was huge.
The Owls were also without some of their best players and faced a 7-point deficit with 4 minutes remaining. Temple then beat the Mustangs 22-8 down the stretch and took the win 64-57. It's the biggest win of the season and follows back-to-back losses. The Owls won't blow you away offensively as they have some of the worst shooting percentages in the nation. What they do well is grab offensive rebounds at a high level (50th in the nation), not turn the ball over and get to the free throw line a ton (23rd in FTA/FGA and 21, 9% of the band's points) . They also defend to a high standard with length at every position. We've broken down Temple's roster ahead of Game 1 but let's take a look at some scenarios for the second round.
Is it another without Williams and Dunn?
When the two teams first met, it was Temple's backcourt play that deserved a ton of credit for the win. Damien Dunn and Jeremiah Williams combined for 33 points, 11 rebounds and some big defensive plays in the win. They are the team's top two scorers and look set for big careers in Philadelphia. Unfortunately, neither has played since the loss to South Florida. Their status update looks to be up in the air for this Sunday, which could play a big part in the game. Both guards are 6-foot-5 and it's no secret that length is sometimes an issue for the Bearcats backcourt. Jake Forrest is another name to follow leading to denunciation. The big man has played 1 game since Christmas but was seen with the squad again against SMU despite not playing. 25.3ppg, 8reb and 6.5 assists are tough numbers to catch, but even if one of Dunn or Williams plays, it will be a story to watch.
Maybe the microwave isn't needed for Strickland
When there are injuries of the magnitude the Owls have faced in the past two games, you desperately need other players to step up. In their best win of the season against SMU, this player was Tai Strickland who broke for 27 points. He also scored 15 points at Tulane in a game where the Temple backcourt was also depleted. Both performances came off the bench, where Strickland made 18/23 feet and is used as a sixth man when needed. Against Cincinnati, the Sophomore was still coming back from a back injury so he only managed 3 points in 18 minutes. I fully expect production to increase significantly on Sunday, especially after the news of Aaron McKie's suspension Quincy Ademokoya indefinitely on Saturday. Quincy had started the last two games, meaning Strickland might not need the microwave to warm up. Rod Strickland's son's game may need to reach the next level for the Owls to earn another big win.
Youthful length and lots of it
Temple has a true center in Arashma Parks who has started the last 11 games (in place of Forrester) but is averaging just 11.4 minutes per game. Instead, McKie uses a plethora of long, athletic subs that can get the job done. Nick Jordan is the prime example of this and even though his shooting percentages have taken a hit recently, since the Cincinnati game he's averaging 7.7 rebounds per game, including 3.6 offensive rebounds. He also blocks shots at a high clip (2.1 per game in the last 7) ​​which adds another dimension. White Jahlil and Zach Hicks are two others that fall into this category. White has averaged 7.5ppg and 7.3reb over the last 7 games while Hicks has made 16 threes over the same span. Jourdain, White and Hicks are all freshmen listed at 6-foot-7 or taller and their futures look bright. Hopefully they wait until just after Sunday to show it.
Final Thoughts: Back to Basics Defensively
The win over Wichita State was a stark reminder that when shots fall, confidence rises and wins follow. That's how life was for the Bearcats during the run-up to the game at Temple the first time these teams played. The beatings stopped falling that day and the result reflected that. Cincinnati has consistently shown solid defense holding the Owls to 33.9 percent shooting and 3/14 from deep. Where they were hurt was at the free throw strip where Temple went 20 of 32. It was the second most attempts an opponent had against the Bearcats all season, behind the 35 by Xavier. The Owls attempt a staggering 21.7 free throws per game (14th in the nation) and it's imperative that Wes Miller instills the confidence to defend flawlessly.
If you take away the success of Aaron McKie's team reaching the free throw line, they're really struggling. Over the last 7 games, Temple is shooting 37.1% from the field, which could explain the high number of offensive rebounds he is able to grab. On the other hand, in the last six games since the loss to the Owls, the Bearcats have allowed Houston, Tulsa and Memphis to all shoot over 50 percent from the field. Before that streak, no other team had shot better than 48.1% all year. They have also allowed teams to score 76 or more points in 4 of their last 5 games. In the previous 21 games, only two teams have scored 76 or more and both have resulted in losses at Xavier and Memphis. The Rouge et Noir are a team that have shown that they can be solid defensively. Getting back to basics defensively against a team like Temple that sometimes struggles offensively could be decisive in the end result.
Cincinnati had a 9-game winning streak against the Owls earlier this season. KenPom predicts a 69-62 win for the home side, which means at 2 p.m. Sunday at Fifth Third Arena, there's no better time to start another one.